Valley of Des Moines
----------------------------------
Orient of Iowa
On behalf of the Des Moines Consistory Building Trust, I am pleased to announce a huge opportunity for our spectacular Consistory Building. We have been challenged by the WT and Edna Dahl Foundation to raise $100,000.00 for the renovation of the Dahl Grand Banquet room and kitchen areas.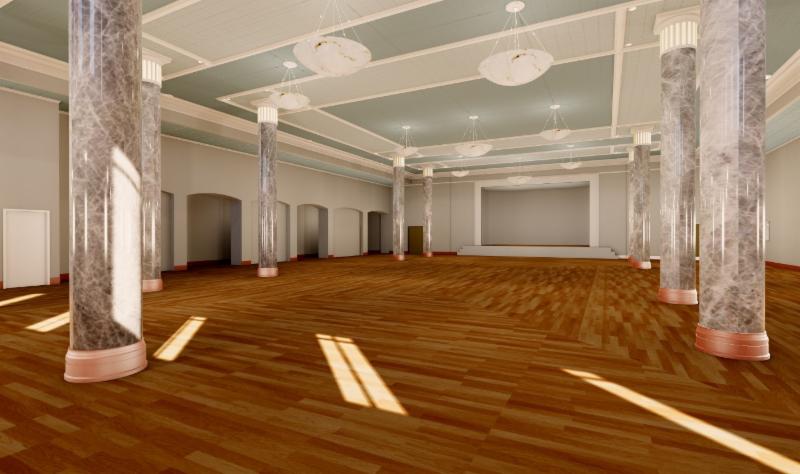 This is a rendering of the planned renovations to the WT and Edna Dahl Grand Banquet room. As you can see, it will involve new painting and lighting, as well as updating the marble look of the pillars.
A couple of notes to this rendering. The tops of the columns will retain the gold flake paint and the overall paint scheme is more gray than is shown in this picture. The stage will also have new curtains installed.
When we are successful, the WT and Edna Dahl Foundation will match our fund-raising with a grant of $100,000.00. This challenge grant is good for one year. This exciting opportunity means every dollar you donate to the DMCBT will be doubled due to this amazing offer.
One of the most important aspects of this campaign is to involve every one of our 1089 members in the Des Moines Scottish Rite. This means no donation is considered too small or inconsequential. Therefore, we are asking each member to make a contribution. We would like to show that 100% of our members want to preserve our historic Consistory building.
For your convenience, you can also make a monthly donation via credit card. We have the ability to charge your debit or credit card each month. A couple of amounts that we would suggest are $83.33 per month equaling $1000 for the campaign or $32 per month to represent the 32 degrees of the Scottish Rite.
You can make your donation by calling (515-288-8927) or by mailing your check payable to the Des Moines Consistory Building Trust (519 Park Street, Des Moines, Iowa 50309). All contributions are tax deductible.
Regardless of how you choose to participate, we thank you for your membership in the Des Moines Consistory and wish you the best during this holiday season.
Sincerely and Fraternally,
Shane Harshbarger -

Registrar of the Des Moines Consistory