---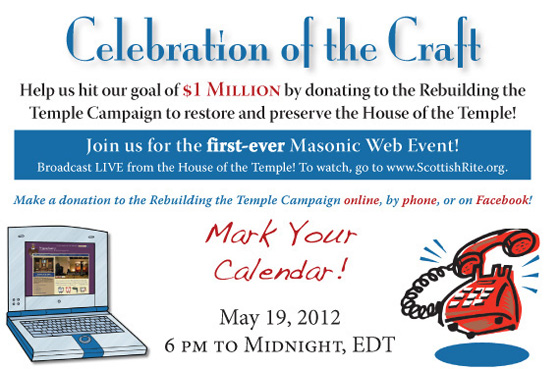 ---

Celebration of the Craft of Scottish Rite Freemasonry
May 19th, 2012, at 6:00 pm–Midnight EDT
This celebration of the Scottish Rite will be similar to a telethon but will be broadcast over the internet on May 19th. Our Web Event will pay tribute to Freemasonry with entertainment, celebrities, humor, and educational programming. Our host will be Ill. Norm Crosby, 33°, Grand Cross. It will be broadcast through the Scottish Rite web site at
www.scottishrite.org
. Donations can be made online, by calling our web event toll free number during the event at 1–855–289–4200, or by texting HOT to 50555 to add a one-time $10 donation to your phone bill.
The program is being professionally produced by the Carlin Company. Orients and Valleys who would like to participate in the event via a live call, video, or Skype, should contact Matt Szramoski, 33°, Director of Development, at 202–777–3143 or
mszramoski@scottishrite.org
. Please submit requests for video and Skype no later than May 5 and 15, respectively.
For donations made during the Web Event, either online or called in, 50% of the net proceeds will benefit the Rebuilding the Temple Campaign to restore the House of the Temple and 50% will benefit Orient and/or Valley 501(c)(3) organizations.
What can

you

do?
Mark May 19th on your calendar.
Plan on watching with your Valley or at home.
Let all of your Masonic friends know about the Web Event and its importance.
Plan on making a gift to help us preserve and restore the House of the Temple and also benefit your Orient.
Donations can be made online, by text, by phone, and on Facebook. Throughout the broadcast we will give up-to-the-minute updates.
If every member makes

just a $5 contribution

,
we will hit our goal of $1 million.
---
Document It!
If you or your Scottish Rite Orient, Valley, or Club, hosts a special function for the Celebration of the Craft on May 19, 2012, please be sure to take photographs (and include captions & credits), create a short write-up, and email it to
journal@scottishrite.org
. Your event may be featured on our web site or in an upcoming issue of the
Scottish Rite Journal
.
---
Click here to watch a message from Sovereign Grand Commander Ronald A. Seale, 33°, about the Celebration of the Craft Web Event.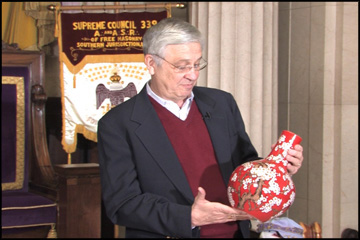 Copyright © 2012 The Supreme Council 33⁰,
All rights reserved.

You are a member of the Scottish Rite.

Our mailing address is: